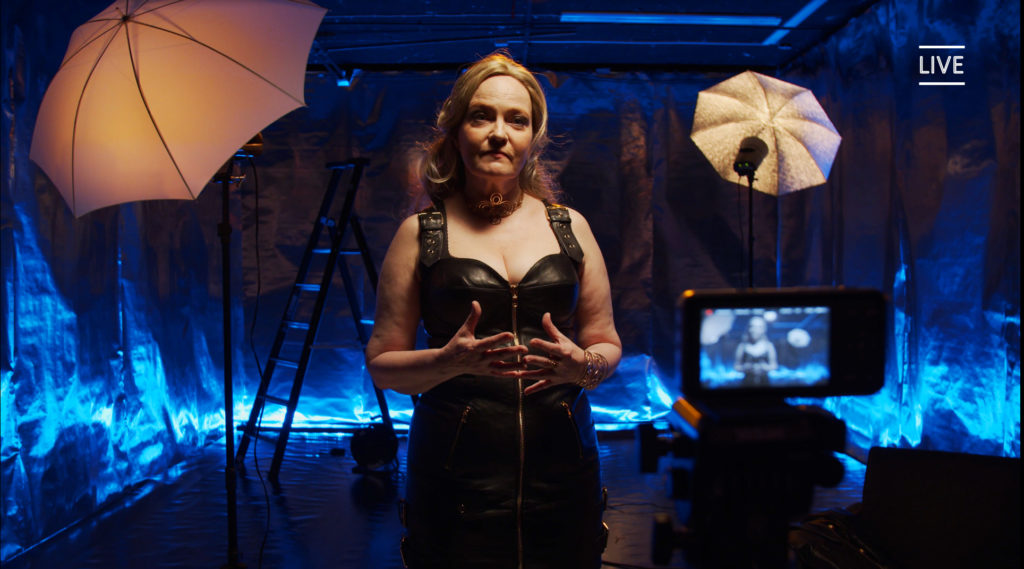 Studio Mustanapassa on vielä hetken esillä Ninni Korkalon videoinstallaatio Mission Self Love. Kun katsoja astuu kellaritasossa sijaitsevan galleriatilan ensimmäiseen huoneeseen, hän siirtyy samalla myös toiseen todellisuuteen: hämärän tilan seinät on päällystetty hopeanomaisella foliomaisella materiaalilla. Tämä materiaali myös elää, sillä seinät heijastelevat tilaan sijoitettujen värivalojen loistetta sävyjen vaihtuessa hiljalleen.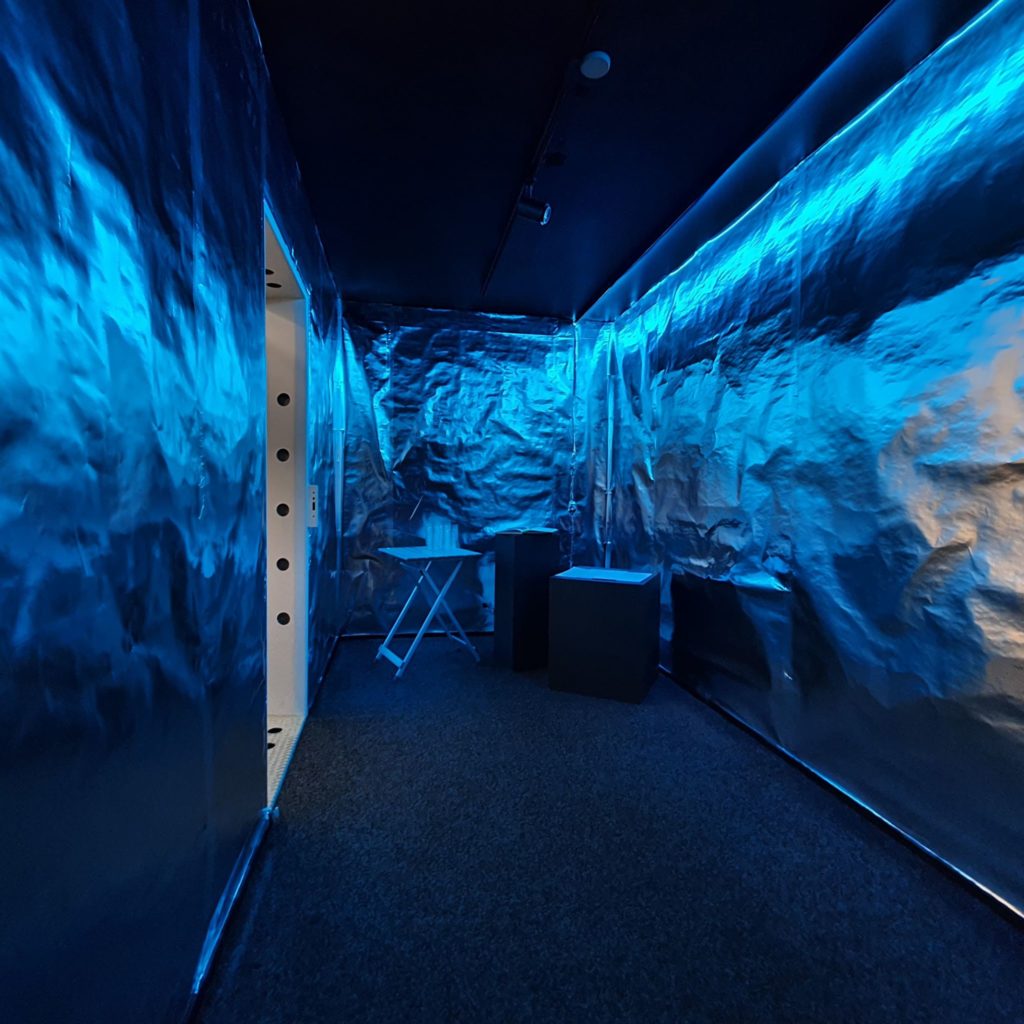 Ensimmäisen huoneen takana on gallerian päätila, jossa esillä on myös videokuvaa. Tilan toisen päätyseinään on heijastettu installaation pääsisältö ja toiseen foliomaisella materiaalilla vuorattuun seinään heijastuvat jälleen värivalot ja erilaiset korkealta kuvatut ilmakuvat.
Foliota, värivaloja ja ilmakuvia. Tunnelma on siis mitä suurimmassa määrin "avaruusmainen". Tätä tunnelmaa vahvistaa teoksen päävideo, jota voinee kuvailla jonkinlaiseksi monologiksi. Video alkaa kuvilla maapallosta avaruudessa. Pian näemme sisätilan, joka muistuttaa hyvin paljon installaation tilaa hopeisine seinineen. Teos synnyttää vaikutelman, että myös galleriatila on videolla kuvatun tilan osa. Sitten tähän tilaan astelee naishahmo, joka asettelee kameran kuvaamaan itseään ja aloittaa puheen "maan asukeille". Tämä vlogimainen teosmuoto, jossa hahmo puhuu suoraan kameralle, on tuttu jo Korkalon aiemmista teoksista. Puhuva hahmo esitellään näyttelyn lehdistötiedotteessa titteleillä "galaksien kuningatar, kolmen tähden upseeri, aika- ja avaruusmatkustaja ja seksuaaliterapeutti 'B' ". Teoksen tekoprosessin aiemmissa vaiheissa hahmoa on kuitenkin kutsuttu suoraan Barbarellaksi. Joka tapauksessa epäsuoremmatkin tittelit ovat selkeitä viittauksia Jean-Claude Forestin 1960-luomaan sarjakuvahahmo Barbarellaan. Hahmo lienee kaikkein tunnetuin vuoden 1968 samannimisestä elokuvasta, jonka ansiosta Barbarellasta tuli yksi 1960-luvun populaarikulttuurin ikoneista. B toteaakin heti puheensa aluksi: "Many of you know me from my previous broadcasts advocating sexual freedom".
Aikaa on nyt kuitenkin kulunut jonkin verran ja niinpä Barbarellakin on hieman ikääntynyt. Myös ajan henki on nyt erilainen ja niinpä myös viesti tälle ajalle on uusi. Vai onko? B:n mukaan tämän päivän supervoimia ovat ystävällisyys, rakkaus ja myötätunto. Teoksen monologi käsittelee itsensä hyväksymisen sekä rakastamisen taitoa ja sen kautta maailman muuttamista – ja pelastamista. Tämä sanoma on tosi ja kannatettava. Toisaalta, erityisesti englannin kielellä lausuttuna nämä ajatukset tuntuvat hieman etäännytetyiltä. Tänä self help – aikana tämän tyyppistä puhetta on tarjolla niin paljon, että suuriin sanoihin jokaisen sisällä piilevästä sisäisestä voimasta on väkisinkin tottunut. Ehkä jopa turtunut, niin ikävää kuin se onkin. Toisaalta teoksen kokonaisuus tasoittaa vaikutelmaa: viesti tarjoillaan niin poikkeuksellisissa puitteissa, että se saa kuuntelemaan.
Myös teoksen kosmisuutta tasoittaa kotoisuus. Vaikka B puhuu englantia, hänen voimakas suomi-aksenttinsa ankkuroi teoksen tähän ilmansuuntaan. Teos myös näyttää, ettei B leiju lähetyspaikalleen avaruuspuvussa vaan hän saapuu sinne avaten hyvin tavallisen näköisen kulahtaneen ulko-oven. Fiktiivinen Barbarella eli 4000-luvulla, mutta Mission Self Love tuntuu lopulta olevan tiukasti kiinni tässä ajassa ja ympäristössä.
Näyttelyn lehdistötiedote paljastaa, että teos on osa The Best Lover-teosta, joka on viisiosainen videoinstallaatio ja lyhytelokuva rakkaudesta sekä itsensä rakastamisesta. Tämä saa ajatuksen lentämään. Miten tämä teos näyttäytyy osana laajempaa kokonaisuutta? Miten laajempi kokonaisuus installoidaan tilaan, ja minkälaisista osista se koostuu? Nykyisessä muodossaan teos on yksi statement ja yksi ääni ja hyvä niin. Kun tämä kokonaissuunnitelma on kuitenkin paljastettu, teosta ajattelee väistämättä osana jotain suurempaa. Tämä osuus siis on ikään kuin teaser jollekin, joka on tulossa. Niin tai näin, mielenkiinto on herätty.
Mission Self Love Studio Mustanapassa 23.9.2020 saakka. Taiteilija tavattavissa päivää ennen installaation purkamista osana Pisteen Taidekohtaamisia & kahvia -teemapäivään Galleria Napassa Rovaniemelle tiistaina 22.9. klo 11.00-16.00. 
Panu Johansson